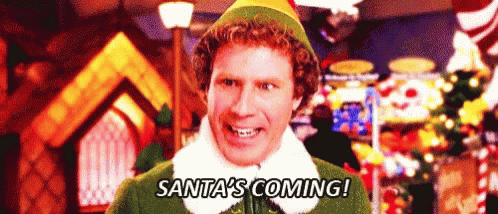 As Buddy said, Santa is coming! Which means it's time to get gifts for family and friends! But let's be honest, this isn't always so easy. With little time and (maybe) a tight budget, Christmas shopping can seem somewhat like a hassle. That's why we composed a gift guide for everyone on your list to make the holidays a little easier.
Girl Friends/Sisters
Our besties are well, the best, so we wouldn't gift them anything other than the best. And neither would you! Here are our top picks for those crazy besties.
ASOS Countdown Calendar – Perfect for a secret Santa, or a casual gift! Who wouldn't want all these goodies?
Soul Sister Cuff – How adorable is this? So cute for those besties you couldn't live without.
SandCloud Hoodie – We're obsessed with SandCloud! We love what their company is all about – which is saving marine life. 10% of each purchase goes towards this mission!
Boy Friends/Brothers
Let's be real, they're the hardest to shop for (at least for us). We might have had to think a little longer on this gift list, but in the end, we think we got just the right ideas.
ASOS Bow Tie and Watch Set – Sleek and clean, this set is excellent for any guy on your list.
men-u Facial Essentials Kit – Keep him fresh with this facial kit, complete with a shaving brush, shave cream, face wash, skin refresh gel, and moisturizer.
Steve Madden Chelsea Boot – These boots are super stylish for those that love fashion or even have to dress up for work every day.
Moms
She does everything and anything for us, so we always make sure to get her something she really loves. So to ensure yours got the best gift, we asked our mom what gifts she loved and what she might like this year.
Google Home Mini – We saw these on Black Friday and thought it was perfect for our mom! You can ask it random questions, it can play music, and and it can even do things around the house, like dim the lights.
Macrame Plant Hanger – Our plants, ASAP Mack and Lil Mack, love their macrame hangers. They're a cute detail to add to any room!
Essential Oil Diffuser – We got our mom this for her birthday and she loves it! It's great for health, is high quality, and (this might be our favorite part) it changes colors.
Dads
We're not joking when we say our dad is the most difficult to shop for, all the time. His gifts have consisted of tools, jeans, and socks for a while, and we think it's time to switch it up, so here are our top picks for picky dads.
Grilling Set – When it comes to cooking, our dad usually isn't about it – unless it's grilling. Then, it's all on him. We're guessing our dad would love this stainless steel set, so maybe yours will too!
Beer After Shave – Our older sister originally got our dad some of this from Germany, and we managed to find something similar on Amazon. Our dad really likes this!
North Face Gloves – For those working dads that always need some new gloves! And no need to take them off to be on the phone, these have touchscreen-friendly fingertips!
Furry Friends
Our pets – we gotta love 'em! They comfort us and make us laugh, so they deserve gifts too! Here's what we would get our super good furry friends.
Turtle Cat Toy – We don't have a cat, but we really like turtles. So we thought this refillable catnip toy would be adorable for any cat.
KONG Dog Toy – Now we do have a dog, and this toy is her absolute favorite. It's especially good for keeping dogs busy while you're busy – just put some peanut butter in it!
Naughty/Nice Bandana – Ok this is just too cute. That's all we got.
Hopefully, this post relieved some of that holiday stress! If you have any other suggestions, leave them in the comments below (because trust us we'll probably need even more ideas soon). Happy Holidays!!